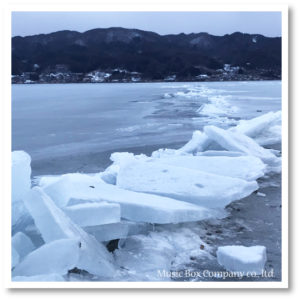 "Shinshu Suwa" became known as the birthplace of precision industry. Approximately 70 years ago, manufacturers of watches, optical instruments, precision measuring devices, and others have rooted here in the wake of evacuation by military industries during the last war.
Since then, Suwa was hence called "The Swiss of the Orient". However, there was another vital industry on par with the one found in Switzerland. Yes, that was the production of the music box.
At that time, gentle tone producing music box loved by people all around the world were generally made in Switzerland. Subsequently, Mr.Masahiko Yamada, who was later called "The Father of Japanese Music Box", started its own production allowing Suwa to deserve the chance to acquire its identical nickname.



COMB TUNING
Combs come in a variety of sizes and ranges of notes. By learning how to grind a music box comb, you
can make the heart of the music box. Tuning a music box comb is a specialized skill involving art, craft
and science. Each tooth, which corresponds to a keyboard on a piano, is ground and tuned manually to
provide a beautiful harmony.


ADJUSTMENT
To achieve an accurate rhythm, the tuned comb teeth are assembled and adjusted carefully.
The distance between the teeth and the pins of the revolving cylinder must be perfectly right so
as to produce beautiful sound as the comb teeth are made to vibrate by contact with the mounted
pins.


MUSIC ARRANGEMENT
Music box arrangement differs greatly from general music arrangement. There are various restrictions
on making this small instrument called "music box". Therefore, accompaniment and chords must be
considered which utilize both sides of the composition (arrangement) technique and design technology
to help create a good melody. New requested tune is arranged suitably for a music box by our exclusive
music arranger.


PRESERVED FLOWER ARRANGEMENT
These are fresh flowers processed with special techniques, made to be able to enjoy its soft texture and
beautiful colors for a long period of time. With a variety of color selection, these flowers are adding up
beauty to your beloved music box. Watering is absolutely unnecessary and when stored in a good
environment, it keeps a beautiful condition up to 2-3 years.