Payment term is limited only through credit card by Sony Payment settlement service provider.

You may use any of these cards: JCB, VISA, Master Card, Diners Club, AMERICAN EXPRESS or Discover.
Methods of payment are based on the membership agreement of each card company. We do not charge card usage fee.
Click the "Add to Cart" button and follow the instructions below to complete the order procedures.

[3. Shipping and Payment] Please enter the necessary information needed on this portion.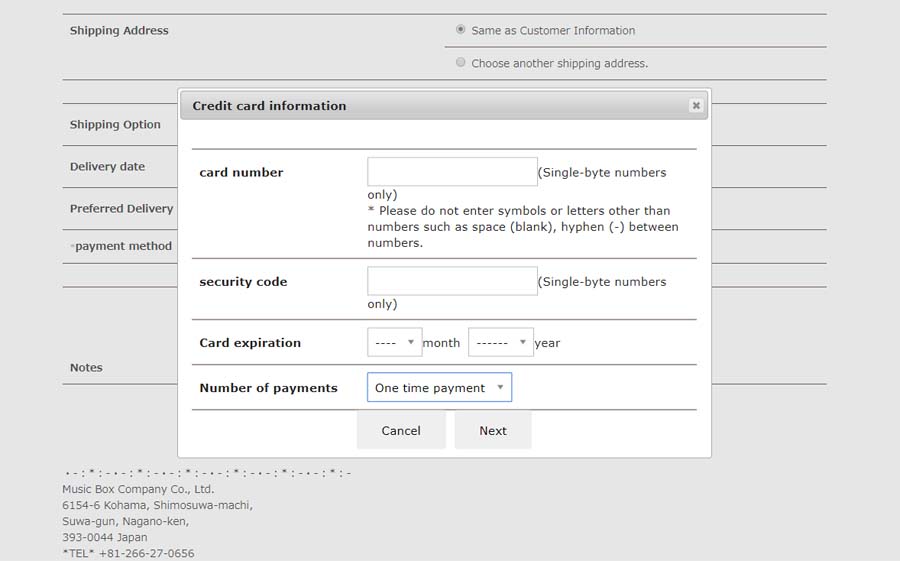 Amendments to Account Payable
If the total amount payable has been changed due to addition or correction of the order contents, our staff will contact you and amend the total amount due. Changes on the amount due may still be possible up until the shipment of goods.
For debit card users, instances like both the amount before and after adjustment may be charged and the first charged amount will be refunded when the customer's bank processing is completed. Delays on refund processing may occur due to bank holidays.
Cancellation of Orders
Our products are custom made to order, therefore we cannot accept cancellation or give refunds for any personalized goods. Please take into consideration that after receiving your confirmation, cancellation of your order will no longer be possible.